Fat Turkey Farm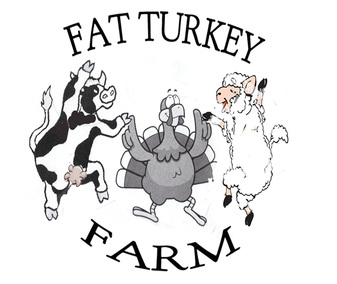 Welcome to our farm!
We are a small herdshare dairy in the making! A family run, animal centered, raw milk producing farm located in beautiful Platteville, Colorado. Our small milking herd currently consists of Miss Loo Loo the Holstein cow, who thinks she's a people. Our farm is run by Robyn, his wife Judy, and children Jessy and Michael, and has been in operation for 13 years. We also raise Black Angus beef cattle, Merino sheep for spinning fiber, also various and sundry horses, chickens, turkeys, dogs and cats.

We strive to farm in a traditional and sustainable way to produce the freshest, best tasting, healthiest food for your table that we can provide. Our animals are fed on grass pasture, supplimented with grass or alfafa hay, corn, and grain. We use no hormones on our animals for any reason. Antibiotics are sometimes a necessary treatment for a sick animal. We don't add antibiotics to any of our feed, or use them on a daily basis.

Miss Loo Loo's milk is full fat, rich, and delicious to drink anytime. The cream is wonderful for your morning coffee, or making into whipped cream for your evening dessert. Cooled and bottled for your pick up at the farm, or drop off at set locations and times. This milk can be turned into ice cream, cheese, butter, or yogurt in your kitchen to suit your needs.

The spinning flock currently consists of Ned the ram, Lucy, Putt Putt, and Brigit the ewes, and Artaius the wether. We shear once a year, and the raw fiber is available for sale. Our fiber is top quality, soft, crimpy, beautiful long locks. Perfect to knit or crochet into soft, warm baby clothes, or winter wear. We are looking into providing processed, ready to spin fiber in the future. We may in the future have hand spun, handknit products availiable for purchase. Depending on how our breeding progam goes, lambs may also be availiable for purchase to start your spinning flock.